Upcoming navigation menu changes for QuickBooks online
When using QuickBooks do you ever feel confused and overwhelmed by the sheer number of tabs and functions at your disposal? You will be pleased to hear that changes are coming to make your QuickBooks experience smoother than ever.

Similar to the way the 'new' button in QuickBooks helped reduce the hassle of navigation, by implementing all customer and supplier payment functions into one concise package, the 'get things done' tab looks to build upon this success.
Now the 'get things done' tab is the start point for your QuickBooks journey and it is easily customisable. If you have no use for certain features, no problem. You can remove these with a click of a button and declutter your menu for a simpler experience.
In contrast, if you still need all the various tabs and functions at your disposal, you can reorder them into a format which best suits you. For example, if you feel as though you use the taxes tab more often than most, well now you can move this right to the top of your page for easier access.
One of the other key new features is the ability to bookmark certain pages. Now you can save quick links to accounts that you use more regularly. For instance, if you feel as though you use the same supplier account consistently, well you can bookmark this to save valuable time moving forward.
Also, there is now a dedicated navigation tab just for your third-party connections called 'apps'. This shortcut will now make it much simpler to connect your QuickBooks account to applications such as invoice processing or mileage.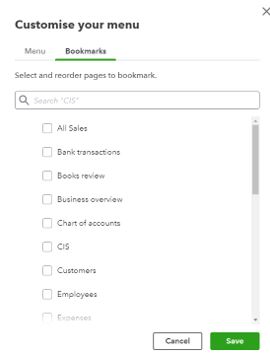 These are the main changes that you will see within the new QuickBooks update, but you should also be aware that reports, projects and cash flow will all now be located within the business overview tab instead of separate tabs. Some of the navigation tab names will also be changing but will include much of the same content. For example, bookkeeping has replaced the old banking tab which will allow you to process transactions as before, but now also offers the option to reconcile your bank straight from this tab.
Overall, all the new features released by QuickBooks aim to improve one core area of the software: ease of access.  This will benefit those of you that are new to QuickBooks but also those of you that are long time users.
---
If you would like some assistance or advice in anything mentioned above as well as PJCO's payroll services, please get in touch on 01273 441187.
Contact
You may also like…
Bounce back loans
COVID Self Assessment Deadline
Cash flow
COVID support update
Homeworking for the self-employed
Stock transfers during COVID 19