QuickBooks offers two different mobile versions of their services, one for self-employed and one for small businesses.
This is easily accessible through google play or the app store, therefore you can access it on iPad, tablets, smartphones as well as the browser version. No need to set up a new account just use the credentials for the browser version in the app and the data will be synced automatically to your mobile in a safe and secure way. The main difference between the mobile and browser version is the ability to update any information on the go (invoices, receipts etc.). The layout and app language is simplified to best benefit you as a company, making it easier for you to understand.
Here is an example of the dashboard:
When you open the dashboard, you are greeted with a few reports to give a basic overview of your business.
The hamburger icon is used to find key sections such as banking, reports, invoices and expenses. In each of the sections, you can find a few at-a-glance reports in a clean layout. You can customize your dashboard to suit your personal preference by using the settings cog, furthermore, you can find your company settings and edit information here.
When you want to add transactions click the Green plus button and choose the appropriate section. You can also upload any documents relating to the transaction.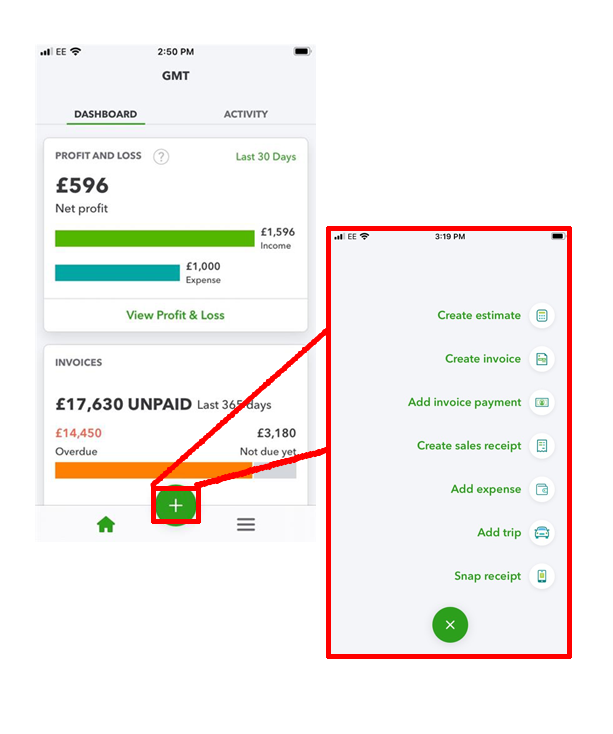 QuickBooks has 4 different plans for you to choose:
Simple start plan- only 1 user, features include; inputting transactions for invoices, expenses and payments, also send estimates and track mileage automatically. This is the most basic plan.
Essentials plan- in addition to the features in the simple plan you can: manage bills, have up to 3 users and use time tracking (track billable hours).
QuickBooks Plus plan- includes all the features from previous plans and, up to 5 users, the ability to see project profitability and track inventory.
Advanced plan- This plan gives you the most features: up to 25 users, manage and pay bills, see more in-depth reports, make batch invoices and expenses. Furthermore, employees will benefit from online training, automated workflows and having an account manager.
A self-employed person has different needs to a small business, so, of course, it makes sense to have a solution to each of these situations hence why there is a specified app for both types.
The small business option is slightly more expensive however this is reflected in the larger variety of features, like automatically extracting VAT and customising invoices.
The app has been designed with businesses in mind rather than accountants, so, the layout is simple, easy and quick to navigate around. The many features mean you won't end your day with a mountain of paperwork. By having the QuickBooks app, keeping on top of your business is now easier, even on the go.
If you have any questions regarding the QuickBooks apps feel free to get in contact with a member of our cloud services team! melitta@peterjarman.com, tom@peterjarman.com or follow the button below.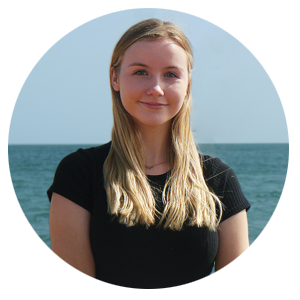 You may also like…
Tracking time in QuickBooks
Reconciling an account in QuickBooks
Using tags in QuickBooks
Tracking stock in QuickBooks
QuickBooks banking tab
Taking security deposits in QuickBooks
Tracking profitability of jobs in QuickBooks